History
Benalmádena Pueblo was founded by the Arabs in the eighth century. The original Arabic name of the city "Ben Al Madina", English translation "children of the mines", leads back to the former iron ore mining.
Idyllic contrast to the built-up coast
Today, the Pueblo proves itself as a beautiful Andalusian village with whitewashed houses, most of them are decorated with colorful flowers as a pleasant contrast to the many coastal resorts of the Costa del Sol, which are characterized by the mass tourism.
Attractions
Numerous attractions are in and around the Pueblo. Plaza España is a typical Andalusian square with a beautiful orange trees in the middle of the historic center.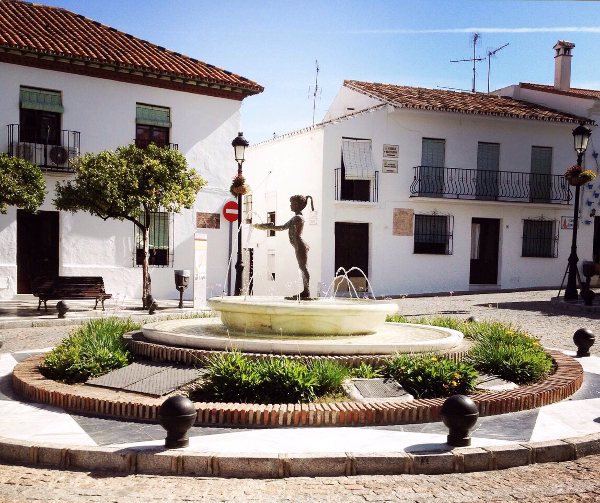 In the center of the square is a fountain with a bronze statue by sculptorist Jaime Pimentel. The sculpture La Nina is the symbol of the pueblo and a sign of  the friendship and fellowship of the cosmopolitan community. Around the square there are many restaurants, ice cream parlors and bars.
The town hall of the municipality of Benalmádena, which includes both Arroyo de la Miel, Benalmadena Costa and Torremuelle, is also located in the Pueblo.
The Santo Domingo Church is just a few meters from the Plaza España. The church is located on the edge of a hill and offers a fantastic view of the coast. Below the church you can find the Jardines del Muro
The Castillo de Colomares was built in 1984 as a memorial to the discovery of America.
Authentic finds you can admire Archeology Museum in Benalmádena. There you will find one of the most important collections in Europe of pre-Columbian artifacts from South America. In addition, a collection of local artefacts from the period before the Roman occupation is shown, too.
Just outside the village you´ll find the Benalmádena Stupa. The largest Buddhist temple in the western world was opened in 2003. The views of the coast from here is breathtaking. Do not miss the visit, admission is free.
The Mariposario de Benalmadena, the Butterfly Park, is the largest of its kind in Europe. The tropical air-conditioned Park contains nearly 1,600 butterflies from all over the world.
Benalmádena Pueblo is worth a visit!
If you spend your holidays on the coast, you should definitely make a trip to the Pueblo, you will not be disappointed. Benalmádena Pueblo is also an ideal starting point for hiking into the beautiful mountains of the Costa del Sol.